Je obdivuhodné, jak málo zdrojů je k dispozici on-line, když přijde na informace o mezinárodních zkouškách ze španělštiny DELE na úrovni C2. Probrouzdala jsem celý Internet mnohokrát sem a tam a informací je poskrovnu, zejména těch souhrnných: jak se připravit, co od zkoušek čekat, jak poznat, že už "na to máte" a kolik času vám příprava na C2 může zabrat. Tento post na některé z těchto otázek odpovídá. 🙂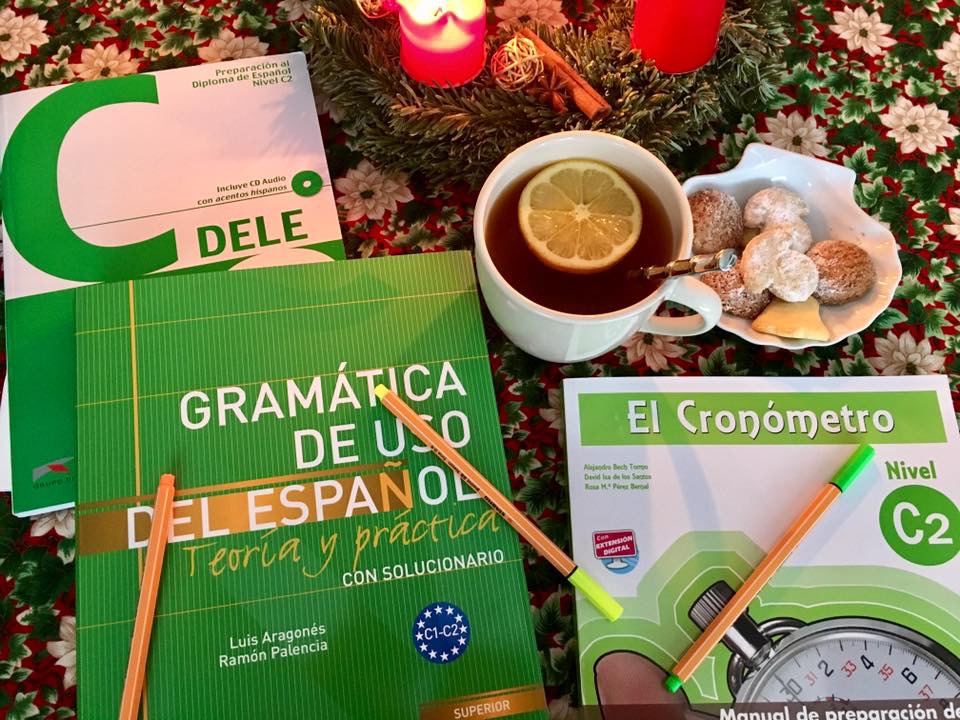 Co se od vás očekává na úrovni C2
Společný Evropský Referenční Rámec (SERR) popisuje požadovanou úroveň poměrně složitě. Volně parafrázováno, kandidát na úroveň C2 by měl rozumět prakticky všemu, co čte nebo slyší, bez ohledu na rozsah, téma a míru abstrakce. Dále musí být schopen se plynule vyjadřovat s velkou přesností sémantickou a gramatickou, což mu umožní jemně odstínit to, co chce vyjádřit, a to i v případě, že se jedná o profesní nebo akademický kontext s vysokou mírou specializace a složitosti. V praxi to znamená, že umíte španělštinu v jednotlivých oblastech (čtení, poslech, vyjadřování) používat zhruba jako rodilý mluvčí. Zkouška neměří, kolik toho o příslušném jazyce víte, ale jak dobře si při jeho praktickém použití vedete a to zejména pod časovým tlakem. Můžete používat kteroukoliv formu španělštiny (evropskou, mexickou, argentinskou…), ale musíte být při jejím použití konzistentní. Pokud zmotáte dohromady argentinskou výslovnost a španělské idiomy, vyletíte.
Jak poznat, že se můžete ke zkoušce přihlásit? Celkový čas potřebný ke zvládnutí přechodu z úrovně C1 na úroveň C2 je samozřejmě individuální, ale překvapivě ne až tolik. Potřebujete zejména nabrat novou složitou slovní zásobu (mnoho synonym a dále specializované výrazy z oblasti sociální, pracovní a ekonomické), napsat spoustu formálních textů a pocvičit se v porozumění různým přízvukům. Mně zabral přesun z C1 na C2 přesně dva roky a troufám si říct, že za kratší dobu to nejspíš nezvládnete. Naproti tomu mě to nestálo nijak extrémní množství času ani úsilí, šlo spíš o pravidelné věnování se jazyku a přípravě v rozsahu cca 10 hodin týdně (započteno je vše – filmy, knížky, rozhovory, podcasty…) Cílená příprava na zkoušku jako takovou zabrala cca posledních 5 měsíců.
Zdroje
Zdrojů pro přípravu na DELE C2 není zrovna přehršel. V zásadě máte k dispozici následující:
Nuevo Prisma C2. Vcelku příjemná učebnice, kterou můžete použít k tomu, abyste se dostali na příslušnou úroveň. Obsahuje všeobecnou slovní zásobu a k dispozici je pracovní sešit se spoustou cvičení, která vás pozvolna připravují na formát a obtížnost zkoušky. Pozor ale, požadavky jsou tu výrazně nižší, než u skutečné zkoušeky (co se týče např. rozsahu vyprodukovaných textů), a tak učebnici nemůžete použít jako jediný zdroj pro přípravu. Vydává nakladatelství Edinumen.
Preparación al Diploma de Español Nivel C2. Obsahuje šest tematicky uspořádaných vzorových zkoušek, včetně slovníčku ke každému tématu a užitečných návodů na psaní jednotlivých typů formálních textů (reklamační dopisy, stížnosti, články). Nejedná se o reálné zkouškové varianty, ale typ úkolů a jejich náročnost je velmi věrná. Tahle učebnice bude při přípravě velmi užitečná. Vydává nakladatelství Edelsa.
El Cronómetro Nivel C2. Absolutní hvězda mezi přípravnými materiály, čtyři reálné zkouškové modely. Další čtyři zkoušky jsou rozpuštěny do praktických cvičení. Cronómetro klade velký důraz na čas a simulaci reálného prostředí zkoušky. Radím nechat si ho na úplný závěr přípravy a nevynechávat praktická cvičení, a chcete-li na přípravu použít jen jeden materiál, vsaďte právě na El Cronómetro. Vydává nakladatelství Edinumen.
Jiné učebnice podle mého názoru nepotřebujete. Taky nepotřebujete číst žádné speciální knihy, bohatě postačí, když se soustředíte na formální novinové články, které vychází v deníku El País. Důležité: ve zkouškových textech nepotkáte žádnou beletrii, jedná se prakticky vždy o adaptované přetisky článků z novin nebo webu.
Tipy a triky
Trénujte porozumění různým přízvukům. U zkoušky je dbáno na to, aby byla v poslechových cvičeních zastoupena jak evropská španělština, tak i různé jihoamerické přízvuky. Zdaleka nejpříjemnější metoda je jednoduše koukat na filmy, zkuste třeba:
Mexiko: Amores perros (film vyšel na DVD i v Čechách), Roma (nominacemi na Oscara ověnčený film, k dispozici na Netflixu), Como agua para chocolate
Kolumbie: zkuste napínavý film o drogových válkách v Cali El cartel de los sapos
Argentina: vyzkoušejte stránku Cine Argentino, kde jsou k dispozici online filmy argentinské provenience. Argentina má skvělé filmy, doporučit můžu jednoznačně třeba Nieve negra, Relatos salvajes (vyšlo na DVD i u nás), Truman (skvělý film a 50:50 evropská a argentinská španělština), El secreto de sus ojos nebo Capitán Kóblic. Hmmm… asi je poznat, že můj oblíbený argentinský herec je Ricardo Darín!
Kuba: Fresa y chocolate, Vientos de la Habana
Kromě Internetu najdete španělskojazyčné filmy v knihovně Instituto Cervantes v Praze.
Nechte si své texty kontrolovat lektorem. Hlídejte si správný počet slov (ani více, ani méně než stanovený rozsah) a procházejte je pravidelně s lektorem, rozumí se samo sebou rodilým mluvčím, nejlépe takovým, který je certifikovaný jako zkoušející DELE, nebo se v požadavcích dobře orientuje. Čeká vás spousta frustrace a ve chvíli, kdy je pochval více než výkřiků ¡Te mato!, také spousta radosti.
Trénujte splnění časového limitu. Zejména u písemných úkolů to není žádná sranda. Dvě a půl hodiny vypadá jako spousta času, ale schválně zkuste napsat všechny požadované texty najednou, v ruce, čitelně a ve stanoveném limitu. Ehm. Jestli se vám to podaří napoprvé, sním svoje boty!
Nahrávejte se. Au, au, já vím. Dostala isem tuhle radu od svého lektora a je k nezaplacení. Nahrát se na diktafon v telefonu, když trénujete na ústní část zkoušky – osmiminutovou prezentaci na zadané téma – má dvě funkce. Za prvé (velmi zdařile) simuluje stres, který u zkoušky zažijete a jak známo, co nás nezabije, to nás posílí! Za druhé vám umožní uvědomit si opakované chyby (např. že místo různých conectores del discurso používáte pořád dokola jen "pero" a "y"). Zlepšení vašeho výkonu minimálně o 100 % je při zmíněném postupu zaručeno.
Oficiální informace a přihlašování
Na webu Instituto Cervantes na https://examenes.cervantes.es. Termíny zkoušek, stejně jako termíny pro přihlašování jsou vyvěšeny tamtéž. Kromě datumů tu najdete zkoušková centra, ceny zkoušek, podrobné informace o formátu jednotlivých úkolů, ukázky výstupů kandidátů kteří uspěli nebo propadli a rozpis hodnotících kritérií.
A jak vypadá vlastní zkouška, případně na co se soustředit u jednotlivých částí? O tom bude další post.